Irina Kunitsyna: good felt toys
Every woman has a love for creativity. Someone embroiders a cross, someone knits, and someone bakes delicious cakes. Our hands simply stretch themselves to create some kind of masterpiece. Today, the site "Mom can do everything!" Will introduce you to her good felt toys.

Irina, tell us about yourself.
Hello. My name is Irina, I am 30 years old, my daughter Nastya 4 years old. Before the decree, I worked as a cadastral engineer (agree: not a very creative profession :)) But I always wanted to do something creative, unfortunately the work did not leave time or energy for it.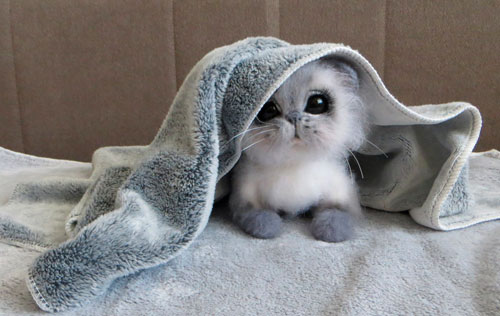 When I had a daughter, I really wanted to do something for her with my own hands. The choice fell on a toy :) I do not know how to knit and sew, and the process itself does not bring much pleasure. And then, quite by chance, I saw a wool toy on the Internet, I watched one master class (how this miracle is done). The very next day I ran to the handicraft shop for materials. I made my first toy in one day.Of course, she was with a bunch of mistakes and deficiencies (very soft and loose). But the reaction of those around me surprised me a lot :) Everyone was thrilled !!! I began to appear new kids: hares, kittens, sad pugs. I started posting photos of my toys in handmade groups in social networks. And people started writing to me, they asked me to make a toy for them. Of course, when you see that your work is liked by others and they are even willing to pay for it, it is insanely inspiring.
What materials do you use in making toys?
For felting, special wool and needles are used (all this can be purchased at almost any handmade shop). Needles are thick (used at the very beginning of work), medium and thin (they are very convenient to use when working with the muzzle). On the needles there are notches (can be direct and reverse). Reverse needles are used to fluff our toy. In fact, there are a lot of needles, they are crown-like, stellate, triangular. I honestly admit that I still don't understand them very well, it's just that the hand itself feels which needle should be taken.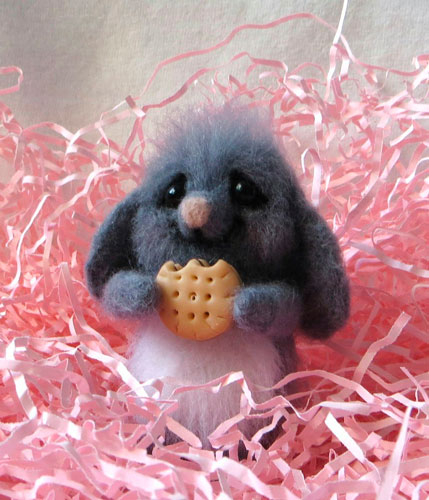 How much time does it take to create one toy?
Now it takes about 1-2 weeks to create a single toy, about 15 cm tall. Yes, the process is very laborious, but also very creative. In the process of felting, it is not necessary to count the loops, follow the smoothness of the shovchik. Even if you make a mistake, you can almost always fix it. Recently, I made a little mouse and, as planned, he was supposed to be cheerful, but his eyes still turned out to be sad. I was almost upset, but literally 3 times "poked" in the right place and the little face of the mouse changed, the eyes became very satisfied 🙂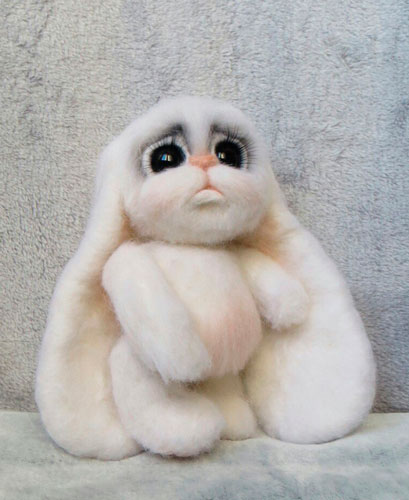 And how does your daughter feel about your creativity?
My daughter really likes what I do toys. Felting most often manages to work out only when Nastyusha is sleeping, but there are times when she enthusiastically draws or sculpts something, and if she sees me just sitting next to me, she says: "Mom, take it and make a toy." Here is my strict commander !!! Doesn't allow me to sit around for a minute But she was not very interested in the process itself, and I am very glad about it, becauseneedles are sharp and for our age it is still still dangerous. But I think when she becomes older, we will definitely return to felting. And maybe even create a creative union of mother and daughter (I really hope so 😆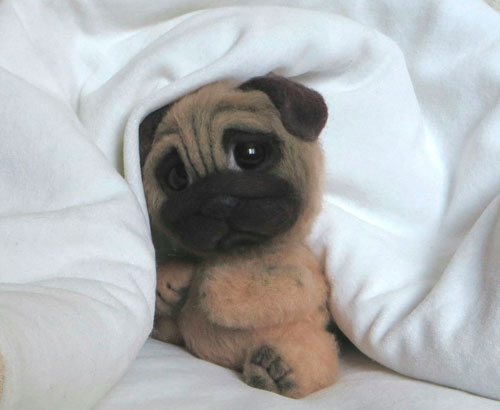 Say a parting word for readers "Mom can do everything!".
You know, I can definitely say that any work changes a woman very much: it becomes softer, kinder, happier !!! Unfortunately, I do not know whose words these are, but I really like them:"The one who has conquered his fear, his laziness and his insecurity wins in this life". The main thing is to try !!! I am sure that everything will work out for you !!!