Raising modern children in the family
Our childhood was better - say many grandparents and parents of modern growing children. After all, we spent most of the time on the street, playing and chatting with our peers. But this alone distinguishes modern children from us and how does this affect upbringing?
Modern gadgets, the constant lack of time for live communication and more comfortable living conditions. Let's take a closer look at these aspects of modern life, and try to understand how they affect our children.
What is the difference between modern children from children of the Soviet Union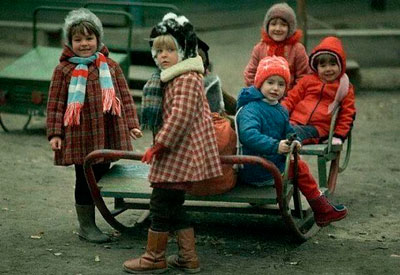 Let's start with the fact that, since the times of the USSR, progress has made great strides forward and life in many ways has become much more comfortable. Living and living conditions have improved. Now almost every apartment has plastic windows, a large variety of toys from a child and modern technological achievements.
If in former times, hardening and a healthy lifestyle was a universal goal, now everyone is trying to raise children in greenhouse conditions and shelter them from any bad weather, drafts and the slightest breeze.This, of course, affects the immunity and health of the modern generation. In addition, the stay in the fresh air of children in our time has decreased markedly. Because before, our mothers and grandmothers almost all day let us go to the courtyard of friends and girlfriends, absolutely not worrying about us and not fearing anything. At the same time, we didn't have mobile phones with us, and they could drive us home just by shouting from the window, inviting us for lunch or announcing that it was too late and it was time to sleep.
Why do modern kids start talking later?
In recent years, speech therapists and speech pathologists in Russia have been sounding the alarm, because the number of children with speech disorders has increased many times. Moreover, not only the delay of speech from an earlier age, but also the expansion of the spectrum of speech disorders is often observed. This phenomenon is attributed to the fact that parents in the modern pace of life have very little free time to rest or to do housework and they are ready to turn on anything to take a child.
TV, computer, phone, tablet, in our time there is a wide enough choice for cartoons, computer games and entertainment applications for children. A child spends hours watching the screen.Of course, he is very interested at this time, but at the same time he does not develop his speech.
For mom and dad it is convenient when the child sits in silence and does not run around the apartment, throwing toys away. But over time, they understand that the kid practically does not speak. And if earlier, children at 2 years old already started to speak and speak words well enough, and by 3.5 to make sentences, nowadays this is often not the case.
It is worth considering whether it is important to distract the child in the simplest way, for the sake of a few hours of his own "freedom" from him? After all, if we recall the Soviet era, our mothers also did not sit on the spot, and they had a lot of household chores that had to be redone all day. At the same time there were no washing machines, vacuum cleaners and good irons with senders. Still, the children also played on their own and without the help of gadgets and televisions.
We didn't have many toys at all: just a few soft toys and one doll for girls and a machine for boys. But remember, with what interest we could get carried away with the game for the whole day, showing imagination, inventing various scenes with toys or making new ones on our own.
The development of modern children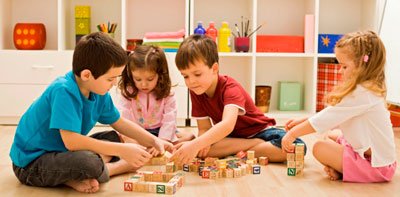 Increasingly, the appeal of modern parents for help to speech therapists and pathologists is increasing. Due to the fact that in our time children begin to speak later, problems with speech or the incorrect pronunciation of sounds become clear only closer to the age of 5 years. And since modern requirements for first grade students have increased markedly, and you need to send a child to school with writing, reading skills and preferably clear speech, parents have to prepare children for school by themselves or with the help of tutors.
Thus, modern children need to start learning to read and write earlier. And in order for this process to go faster and easier for the children themselves, they need to develop properly from an early age. And parents should contribute to this in every way.
Develop fine motor skills and creativity. Fingering small items contributes to the training of speech apparatus. Sculpting, finger drawing, playing with cereals are far from the only ways to practice fingers and develop their sensitivity, as well as the imagination of a child.In addition, creative activities can relieve stress and anxiety in a child.
Limit the viewing of cartoons and games on your computer or phone to 15 minutes a day.
Provide the child with simple games for the development of logic and fantasy. Now on sale a lot of interesting, musical, interactive toys. But, unfortunately, they do not develop the thinking of a small person at the proper level, they do not make him think, everything has already been invented for him. Therefore, for kids 2-3 years old, it is better to buy cubes, the designer and various sorter. They help develop logic and learn to think independently.
Expand the child's vocabulary, develop speech. Especially if the child does not attend kindergarten, then he is very in need of additional classes in reading and studying poems. Even from the age of 1.5, it is useful for even the youngest children to show bright illustrations in books and supplement them with short descriptive stories or poems.
To study the world around us. For the development of early speech in children, it is necessary to encourage them to talk through fully descriptive stories about nature and living things. Walking through the park, focus on its inhabitants.For example, tell about bugs or birds. While the child watches them, explain in detail how they move, what they eat and where they live. The next time when a child sees an insect or an animal about which you told him, he himself will begin to say words associated with him.
In addition to the development of speech and creative abilities of modern children, it is worth developing in them independence, responsibility and desire to help others. For such purposes, it is useful to acquire a pet, about which the child will learn, care for himself, worry about him and be responsible.
In the age of high technology, it is very important to introduce modern technologies and gadgets in the life of our children in a measured and measured way. And more care about their moral and moral education. Because modern children will be able to make up for the skills of handling technology very quickly, but to learn compassion, high moral qualities and respect with age will become more difficult.